We have called our little kennel "fiapinhos". "
"Fiapinho" means something like "small fluff" in Portuguese.
Our puppies reminded us simply of small balls of lint that the wind blows over our terrace. That's why we chose the name for our little kennel.
Speaking of Little Kennel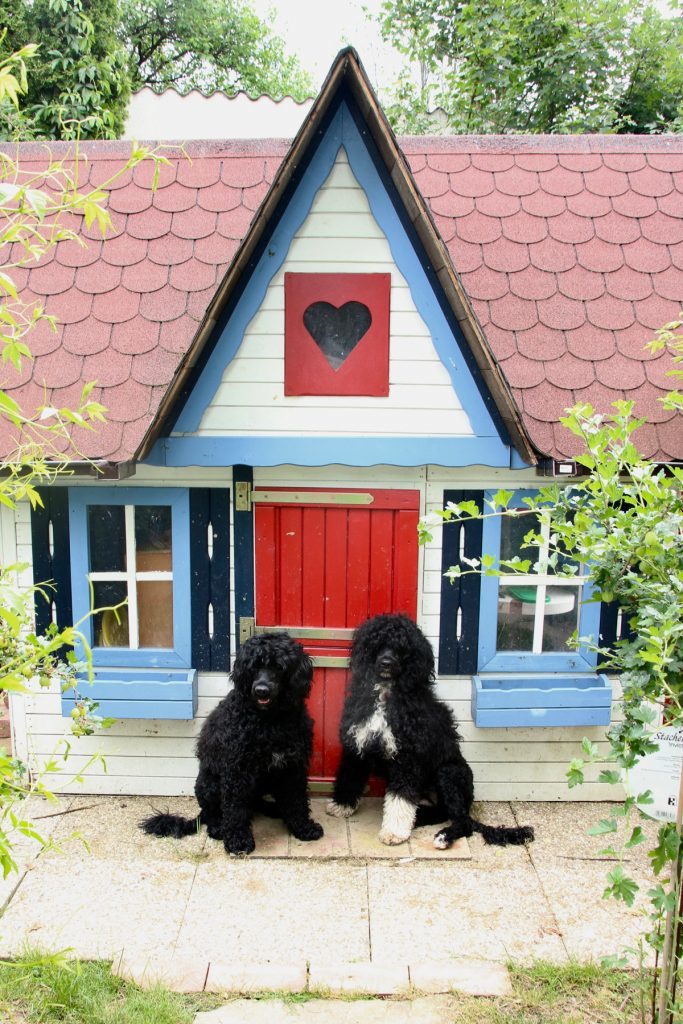 We don't have a commercial kennel. While the Spanish and Italian Waterdogs are rather well-known in Austria, "Porties" are comparatively underrepresented. That's why we decided to breed these nice, fun, smart dogs every once in a while for nice, fun, smart families and take our joy in watching the puppies grow. Our kennel adheres to ÖKV/FCI standards and rules. Concerning health, they demand only tests for hip dysplasia and PRA (Progressive Retinal Atrophy) .
We test our dogs in addition to these two tests for out genetic disesases. This includes JDCM (Juvenile Dilatative Cardiomyopathy = a genetic defect of the heart muscle), gangliosidosis (= a neuro-degenerative disease), IC (Improper Coat = not a disease, but a possible different development in the dog's coat), as well as elbow dysplasia. Plus, we do an ECVO eye exam.
This extensive testing and an according choice of partners is part of our responsibility as breeders. We want to ensure as far as possible that our puppies are not carriers of a genetic defect and no harm comes to them or their families through possible diseases.
The whelping box is in our living room. That way, we can always have an eye on the little fluffs – and vice versa. This also means that they are used to everyday sounds from the very beginning. When they start to get more mobile, they are moved into a separated area in our large eat-in kitchen (with their own exit into the garden). In the garden too, there is a separate puppy area where they can get to know grass, sand, stones, trees, bushes and so on. They also play with our other (adult dogs). Or annoy them. Or probably both. (Meanwhile our cats try to stay away as far as possible…) The puppies meet our grandchildren, neighbors' children and other visitors early-on.
Life With Our Dogs
Our dogs are our roomies. Porties bond strongly with their owners and always want to be part of whatever is happening. They love various activities and we try to honor that porties have always been working dogs who have and want their own tasks. That means that we regularly take dog courses like Fun Agility, Trick Dogging, Agility, Obedience etc., but also give them a lot of (free) movement and as much access to water as possible. We rarely leave the house without a dog and take the dogs with us separately, no matter whether we go to a restaurant or the city or visit friends. Of course, our dogs are also busy with each other in our big garden, but nevertheless their "social life outside of the house" is very important to them.
Taking part in dog shows is also part of our lives as breeders and our dogs' lives. Dog show trainings is another form of activity with each dog separately and dog shows are a social training for them at the same time: they have to calmly bear large groups of people and strange dogs and they also have to bear that strangers (the judges) touch them quite intensely. Once the dogs are used to the dog shows, you can see that they have fun to present themselves in the ring. For us as breeders, dog shows are an important way to meet other breeders and porties, to network and to talk about dogs for hours without the other person falling asleep from boredom.
Our dogs have the lion clip. That is necessary for dog shows. We have gotten so used to it by now that we also let the dogs who don't go to dog shows have that haircut. It is singular to the race and has its historic roots in the work on the boat. It is a little more work than the so-called retriever clip, but it also offers the possibility of "social grooming" and the strengthened bond because of it.
Despite all offers of activities for the dogs, one shouldn't foget that they also need extended periods of calm and rest and you don't have to (nor should you!) offer them "high life" every day.